Psalm 100 says " Shout for joy to the LORD, all the earth. Worship the LORD with gladness; come before him with joyful songs…. Enter his gates with thanksgiving and his courts with praise; give thanks to him and praise his name. For the LORD is good and his love endures forever; his faithfulness continues through all generations. As a church and as families, we need to train up our children that worshipping God is for everybody.
W.O.W. Worship Our Way is a worship service just for kids! Children 1st through 6th Grade start the worship hour in the sanctuary for both the 9:00 and 11:15 services. After being dismissed from the sanctuary, children go to their own worship service in Room G. At W.O.W we introduce many of the traditional elements of worship in a way that kids can practice, understand, and enjoy. We practice greeting others, share our prayer concerns and celebrations, sing worship songs, learn the monthly scripture verse, use our bibles to look up scripture, and receive a short scripture teaching. We have a lot of fun together, too!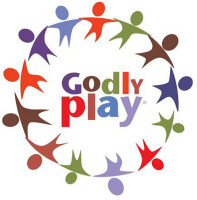 Godly Play is offered during our 9:00 worship hour** for children 4 years through Kindergarten. Children start the worship hour in the sanctuary and travel to Room N for a time of worship, wonder, and the word!
Godly Play is a creative, play-based, imaginative approach to worship and learning for young children.
Godly Play values process, openness, discovery, community and relationships.

Godly Play models the worship life, stories, symbols and rituals of Christian congregations.
Godly Play nurtures participants to larger dimensions of belief and faith through wondering and play.​
**Please note: Worship Bags with developmentally appropriate quiet activities are available for check-out during the 11:15 worship service for children 4 years through Grade 2.
Whats A Worship Bag? We have thoughtfully put together bags that contain much more than crayons and paper for children to use when staying in our regular worship service. They contain lacing cards, legos (with the monthly scripture verse on them), matching games, and much much more. While some things will always be in the bags, others will switch out for some variety. Bags are available for check-out in the back of the sanctuary. Please return them when you are finished!

Family Worship Sundays! Jesus said, "Let the children come to me!" knowing full well children are full of wiggles! As a church, we think training up our children to worship is a two-fold process. We offer age appropriate worship for kids each week, but also feel it is important they know they are welcome in our worship services, as well. Family Worship Sunday is on the first Sunday of each month. On those Sundays, we will offer nursery, but ask that families plan to worship together on that day. We want to get children involved in the service, serving as worship buddies ushering, greeting, reading scripture, helping with communion, etc. Worship Bags will be available for check-out in the back of the sanctuary for children ages 4 through Grade 2. Clipboards with fun sermon notes and activity pages are available as well.
We believe all children have great things to contribute in our worship services! Our Worship Buddies program allows children to work along side an adult to usher, greet, serve communion, read scripture, offer the welcome, help deliver the memory verse for the month, etc. On each Family Worship Sunday, we hope to have LOTS of children involved in worship! Families will be sent a sign up each month via e-mail to participate as a worship buddy!
For more information regarding our worship programs for children, contact Linda Klepaczyk, Director of Children's Ministries at