"Parents in the Know" is where you can come as a parent to see what your student is learning about in all the different youth ministries that we have going on throughout the week. These entries are updated weekly and are designed to help you continue the conversation at home. They are presented in a devotional style, and hopefully will challenge both students and parents to grow in their faith as you engage with these discussion topics throughout the week.
*Updated Thursday, 4/12/18 at 4:17pm

---
THE UNDERGROUND





Sometimes it's hard to see what the future has in store. We think that we know, and then we put all of our eggs in the same basket in order to follow that goal. Then, when it doesn't work out for us, our whole life comes crashing down. Can you imagine what it would have been like for the disciples to watch Jesus be executed, and then each of them living in the fear of being the next one to be put up on that cross? It must have been quite a shock. They had been following this Jesus guy around for 3 years thinking that he would be the one to restore Israel to it's glory. But then it ended. And just like that it was over. But here's the thing...we tend to think that things are over and done way before they actually are. Jesus wasn't done. He was just getting started, and his disciples were a big part of that plan! And that plan continues even today with His disciples all around us. So when it seems like you've come to the end and that your story is over, just remember that Jesus isn't done and that you are a big part of that plan!*
---
Sunday School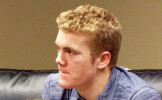 I feel like this kinda goes without saying, but we can learn a lot from Jesus. Not just from what he said, but from how he treated those around him. From what I can tell, Jesus was not a beat around the bush kind of guy. He called 'em like he saw 'em. But yet he was able to do it in such a loving way. In His encounter with the Samaritan woman at Jacob's well, he called out the woman for her sins, but he didn't seem overly concerned about that. He was more concerned about her and her spiritual well-being. He wanted her to have the 'living water' so that she would never 'thirst' again. All too often we can be too forward with our faith and try to push it on others that we really don't know very well at all. Jesus is teaching us that we need to first enter into a relationship with others, so that we can really know them for who they are. It is only then that we can try to speak truth boldly into their lives. Jesus shows us how to do it in this story, and now it's up to us to learn from that and go out and make disciples His way.*
---
Sunrise Service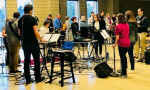 Easter is a special day on the church calendar. It is the day that we celebrate the resurrection of Jesus, the Son of God! Resurrection Day! Each year our students get the opportunity to lead us in worship on the special day bright and early at the Sunrise Service. I've always wondered why it was that the youth have been the ones charged with the duty of running a service that starts at 7am (the earliest service that our church offers all year). But as we thought more and more about it, we discovered that this truly is an honor. The empty tomb was found by Mary Magdalene on Resurrection Day just as the sun was coming up. Jesus has a habit of shining light into a dark world, and what better time to do it than at sunrise. Darkness is still present in our world today, but Jesus' resurrection has given us light. All we need to do is shine that light everywhere we can so that the world can see it!*
---
Bible Study
Have you ever had such an epic fail that it feels like you just can't go on? I know what that feels like, and to be honest, I've had too many to count. But here's the thing, failure is a part of life. We all fail (some of us more than others). But what sets you apart is not the failure itself...It's what you do immediately after it that counts. It is so easy to just throw in the towel and quit when we experience failure, but that's not what we are called to do. Jesus wants us to know that we can be forgiven, so that we can put our failures behind us immediately and go right back to following Jesus with everything that we have. Sometimes it helps if we have something to remind us about this. So try this...Try carrying around in your pocket an epic fail ticket. And then, when you fail at something, just take that ticket out, rip it up, and leave it behind you. You'd be surprised how much your life can change if you develop the ability to just simply put your mistakes behind you and move on.*
---
For more information about the Youth or Family Ministries at FUMC Saline contact the Director of Youth & Family Ministries, Jay Leadley at 734-649-2684 or .