"Parents in the Know" is where you can come as a parent to see what your student is learning about in all the different youth ministries that we have going on throughout the week. These entries are updated weekly and are designed to help you continue the conversation at home. They are presented in a devotional style, and hopefully will challenge both students and parents to grow in their faith as you engage with these discussion topics throughout the week.
*Updated Thursday, 5/10/18 at 3:18pm
**Updated Monday, 5/14/18 at 4:14pm
---
THE UNDERGROUND





We all deal with stress...but where does that stress really come from. Surely if we are interested in reducing the stress in our lives, then the first step would have to be identifying its source. So where does stress originate? It seems as though most stress comes from how we think others few us. We start to view ourselves as the people that others have labeled us as. We worry about not doing well at school because of how our parents or teachers will think of us. We worry about not performing at work because of how others will perceive our work ethic. And if someone identifies you as not being good enough at something to succeed, then we start to believe them. Ultimately it can change how we see ourselves. But the good news is that your not the person that people tell you you are. Your the person that God tells you you are! He created you, so he knows you better than you even know yourself. Instead of worrying how other people see you, try taking some time to identify how God sees you. And as you get closer to figuring out who God really created you to be, then you'll start to forget about the labels that have been put on you over the years, and you'll start to pursue God's purpose for your life.*
---
Sunday School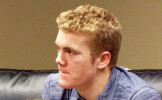 Time can do funny things to us. If we've learned anything from history, it's that time has the ability to shape and evolve the way that people think about particular things. And Christianity is no exception. Over the course of time we have seen the historic Christian faith evolve into something that scholars now call "moralistic, therapeutic deism" (Almost Christian, Kenda Creasy Dean). "Moralistic, therapeutic deism" suggests that even though we believe in God, our main goal in life is the pursuit of our own happiness and to feel good about oneself. Historic Christianity has always suggested that the goal of life is to worship God and enjoy him forever (Westminster Shorter Catechism). It seems to me that there is a big difference between the two... And that there is an even bigger difference in how we see these two belief structures play out in the lives of the believers. The real question is... Where do you find yourself? If I'm honest, I find myself pursuing my own happiness and security far too often, and I don't spend enough time worshiping and enjoying God. If we want to be the church that God created us to be, then we need to do some exploration of what it would look like for us to worship God and enjoy Him forever...and then do it!**
---
Bible Study
Have you ever been a part of something that you just bought completely into? I mean something that your not being paid for...something that is completely voluntary...something big, that took a lot of time and effort to pull off. If you're like me, then you have a couple of these experiences in your life, but ultimately, probably way too few of them. Whenever I find myself wrapped up in something, it's always an adventure and usually a very fulfilling experience. But when a new opportunity comes up, I often times find excuses to not dive in. I look for ways to get involved marginally, but not jump in completely. But here's the thing, when God calls us into something new, he expects us to jump in and put everything that we have into it. God never calls us to do things marginally. He wants to move in big ways, but he can't do that if his followers aren't committed to the cause. What is it that's holding you back? And what can you do to remind yourself to submerge yourself the next time that God calls you to jump in? In the moment it seems like a good idea to slowly wade into a pool of cool water, but we all know the best way to do it is to jump right in!*
---
For more information about the Youth or Family Ministries at FUMC Saline contact the Director of Youth & Family Ministries, Jay Leadley at 734-649-2684 or .