The Underground!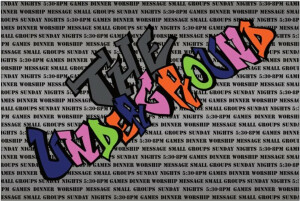 The Underground is the high point of the week for all things youth related at the church. We have a lot of fun, and we have some great discussions about school, sports, music, life and faith. If your looking for a place to have fun in a Christian environment and also grow deeper in your faith, then come check it out! We look forward to seeing you!
Sunday Nights (our usual)
5:30 Free time/open gym: Basketball, 9 square, gaga, air hockey, video games, free time, & more! From the upstairs gym, outdoors on the property, to downstairs in our student center, we have something for everyone to enjoy.
6:00 Dinner: Parents make dinner for the group so we can sit and talk over a meal. Everyone loves food and hang out time.
6:20 Program: Group game, music, videos, BVOTD (Bible verse of the day), and mini message all shaped around a theme to learn more about God. We get interactive with God's word to make it come alive on a level that relates to students. Whether its through a crazy game, dance praise music, impactful videos or the message, you will experience God!
7:15 Small Groups: The small groups are assigned to provide a more open and safe environment for each student. Our adult leaders work with the students to try to facilitate an open dialogue within each group. Small group discussions are designed to follow the topic that was just covered during the message, but this is also a time where students can feel free to talk about anything. Small groups offer you the opportunity to connect... to connect to peers, to connect to adults that you can trust, and to connect with God. So come to The Underground expecting to connect!
8:00 Depart
Last Sunday of each month is EVENT NIGHT!
The last Sunday of the month will be EVENT night! This means games, challenges, special treats, and fun. Its the perfect opportunity to invite a friend. Here's a glance:
5:30 Free time/Open Gym
6:00 Dinner
6:20 Event
7:45 Closing
8:00 Depart
---
For more information contact Trish Farrell, Director of Children & Student Ministries.