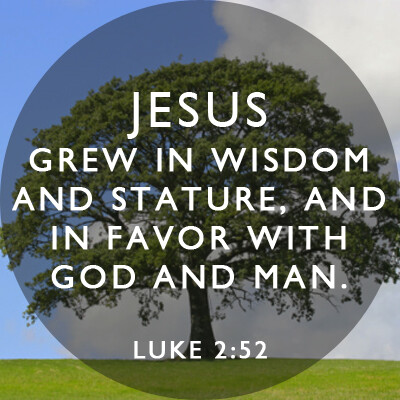 "And Jesus grew in wisdom and stature, and in favor with God and men." (Luke 2:52)
The Bible says that one of the goals for parenting is to prepare our kids for life. God intends the family to be a learning center for life. We learn things in our family that we don't learn anywhere else. I remember when my youngest taught me how to throw mud with a 4 wheeler — a very cool thing! I don't know if I'll ever use it anywhere, but you never know!
Seriously, we learn life's basic skills in the family, like how to walk, talk, eat, and use a TV remote. God says we are to prepare our kids for life.
Look at that verse at the top of the page. It suggests that there are four ways Jesus grew, and these are the same four ways we, as parents, have to help our children grow. Luke wrote:
1. Jesus grew in wisdom — that's mental or intellectual growth.
2. Jesus grew in stature — that's physical growth.
3. Jesus grew in favor with God — that's spiritual growth.
4. Jesus grew in favor with men — that's social growth.
Those should be the goals we have in our family for our children, which focus on balanced growth: mental, physical, spiritual, and social. The Bible is very clear that the primary responsibility of raising children and helping them be prepared for life belongs to us.
I also remember what my friend, Jim said so eloquently in church the Sunday after his son, Alex was married. Jim said that he was grateful because a lot of people contributed in the shaping of his children. That they would not be the young men they are today without the contribution of so many different people. I believe this too. For while it is our responsibility to raise our children, I'm thankful for a church that has provided so many opportunities and positive role models for my kids that have helped us in raising our children.
Our goal as a church should always be to raise disciples for Jesus Christ, no matter the age!
See you in church!
Pastor Tom