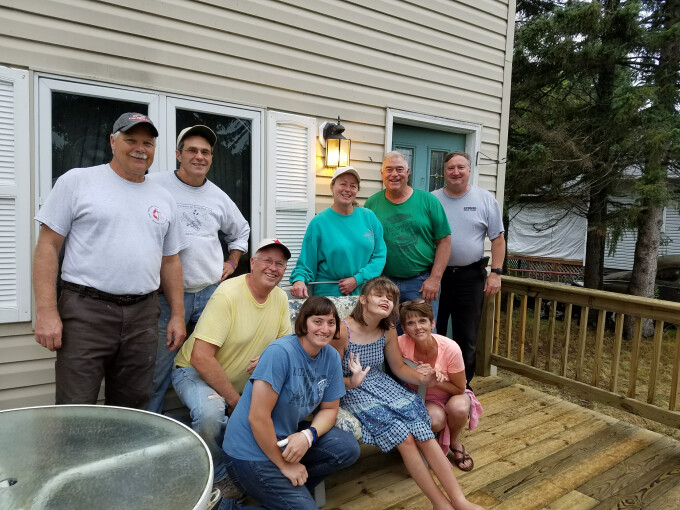 The end of day four and we're all still alive. A good sign that God has blessed us on this trip and allowed our hands to do His work. Today we were at a house that was part of last year's mission project. It had sustained a lot of water damage when the water pipes froze and burst four years ago. The entire house had to be gutted and redone. Still lots to be done. Today Ed, Carl, Carlos, and Steve worked on hanging more dry wall in the living room area. Sharon and Dick moved some two-by-fours to enlarge and frame in a bathroom and set the shower in place. Kaitie, B, and Joe mudded and taped the new drywall. Back at the first house, Tammy sanded part of the deck and Steve also set up the fire pit with some stones.
Wendy the first home owner posted "Today, I am so incredibly blessed with the love, kindness and work done by this team. I am so thankful. We are loving our deck, our spacious yard, roof, and little trail made for my grandson. Thank you."
Today's homeowner was also on the scene and very appreciative of our work. Sorry it could only be one day's worth. There's so much more to be done.
There still remains concern for the first house having a continuous water leak around the well and it's flooding to the basement. So a well company will be coming out in the morning to meet with Steve to assess the situation. Hopefully, they will be able to take care of the situation.
We enjoyed a little ice cream break in the afternoon and this evening pasties were provided by Wendy, the first project house. They were very tasty. Yum.
It's much quieter tonight. Three of us have already departed for home. Pray for safe travels for the team as we head home. The rest of us are leaving tomorrow morning.
Check out the latest photos here.