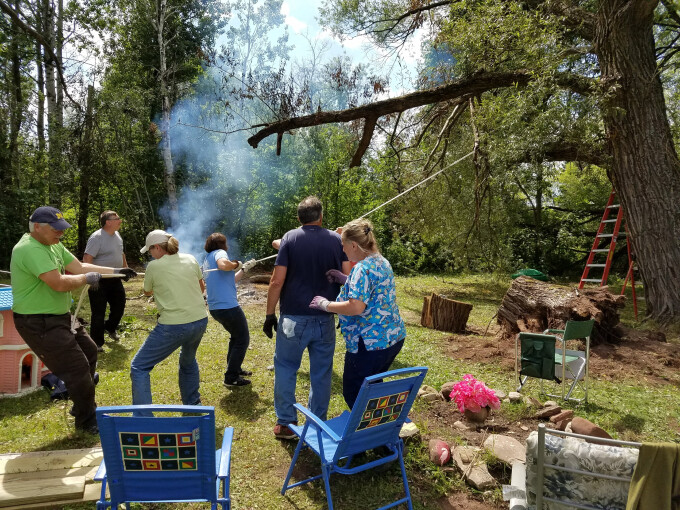 Breakfast again. Go figure. Followed by devotions and singing. Today's message was about Peter and Christ's willingness to accept us and use us for the betterment of his kingdom even though we are sinners and continuously make mistakes.
Then on to the work-site. We have met the family who lives there and they are really grateful for our work and even pitch in to help when they are around. Much more work was accomplished on the deck but there was a lot of conferencing going on and measuring and remeasuring. Ed cut the spindles and Dick and Sharon installed them. Carl used the circular saw to cut off the tops of posts and raise a few as well. It's beginning to look really nice. Tomorrow we should be able to put a cherry on top of it and call it done.
What will never be done is the yard work. Trees, twigs, limbs, bushes, weeds, and tons of brush have been chopped down and burned on the side yard. E Ray has unearthed a basketball pole, two basketballs, and a giant metal gate. B and Kaitie cleared many trees and limbs. Actually creating a trail to the road.
Carl traditionally bumps his little bald head and today was the day. It's just a little boo boo, but now it's out of the way and he can continue to work in peace without wondering when it's going to happen.
Randomly yesterday a part of the side porch Wrought Iron Railing fell off onto the ground. Steve and Joe to the rescue. Safe passage to the side door has been restored.
Joe was up on the roof patching various leaky spots. Carlos made many runs up the ladder with his chainsaw. Steve repaired the mailbox post using only his bare hands and of course Kaitie to haul water for the cement and check out the posts levelness.
Sharon took a break from the deck and weed whacked around the other side of the house. Tammy and Sharon also worked on chopping down a big bush patch in the front of the house.
After showering, we enjoyed an amazing spaghetti meal cooked by Joe. Thanks Joe. Many other hands helped as well. Thanks for your continued prayers.
Take a look at this week's mission trip photos here.