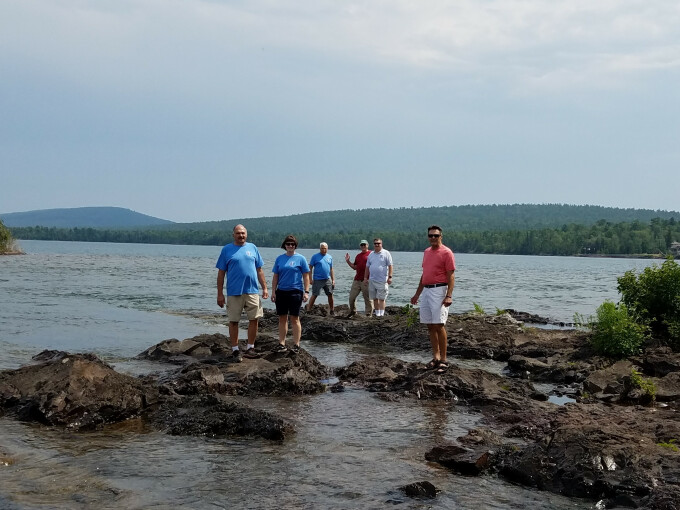 Today, the morning started off with worship at Grace United Methodist followed by a short fellowship time after the service. We ate a quick sandwich and headed to Hunter's Point Park where we picked rocks for B's bathroom. Some went for a small loop hike by Lake Superior and skipped rocks along the way. Dick walked straight into a tree, but no damage done. He's got a hard noggin. Next, we stopped at Estivant Pines which is a wilderness nature sanctuary. We saw some beautifully tall white pines. Everyone stood in amazement with how big and tall they were. We hiked here for nearly 2 hours. The trail went up and up and up until it went down a little too far and we had to go back up again. A few slippery rocks, but just like mountain goats, the team remained sure-footed.
Everyone was hot and hungry after this hike and we needed some nourishment. We stopped at the Eagle Harbor Inn where we enjoyed delicious food and were able to cool off. Most of us also topped off our evening meal with a spectacular dessert selection. Yummy!
We ended the day by stopping at Wendy's house and discussing plans for tomorrow's work and catching up with her and Hayley from last year's mission. Hayley enjoyed listening to music and some joined in and sang with her. It was fun to hear her unfettered joy of singing.