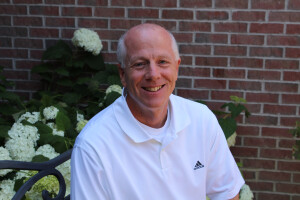 Tom Zimmerman
Senior Pastor
E-Mail:

Tom moved to Saline with his wife Julie in July 2016 to be pastor of Saline First United Methodist Church. Tom's ministry focuses on inspiring people to follow Jesus through worship and Bible study. His passion for missions and service to others puts Jesus's commandment in action.
Tom often illustrates God's message with day to day life experiences that are touching, informing and sometimes humorous. Julie's career teaching a Young 5 class provides a wealth of material – wisdom "out of the mouth of babes."
Tom and Julie are blessed with a growing family - three adult children, their spouses and several grandchildren. They treasure family time, especially up north getaways. Tom is an avid fan and proud graduate of the University of Michigan. He enjoys fitness activities and can be seen cycling around Saline or on the softball diamond.
Tom's favorite Bible passage is from Philippians 4:13, "I can do all things in Him who strengthens me."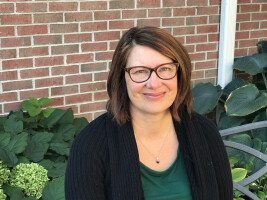 Jeanette Brenner
Director of Congregational Care (part-time)
E-Mail:

Jeanette joined the Saline team in March of 2015. Jeanette brings caring support for people of all ages and uses her creativity, energy and joy to serve the congregation and community through events, support groups, and caring ministries. She loves to bike, read, and cook. She has an incredible husband Jonathon and four boys, Max, Aaron, Luke and Joel. Her son Luke resides in Heaven a victim of a car accident in 2008.
Linda Klepaczyk
Director of Worship Celebrations
E-Mail:

Linda is a long-time member of SFUMC and a lifetime resident of Saline and the surrounding area. She has spent her career investing in the lives of children. She received her degree in Music Education from Eastern Michigan University and has taught music in Manchester Schools followed by thirty years of teaching music and directing theatrical productions in the Saline Community. She served on the music staff for over ten years at Ypsilanti Free Methodist Church, as well as twelve years at SFUMC, co-directing the chancel choir, worship planning, and coordinating children's worship arts. She is excited to be back on staff.
Linda has a passion for coordinating and facilitating large groups, large trips, large projects and large productions. Her love for music, theater, and kids is only surpassed by her love for Christ. Her ministry philosophy is founded on helping young people grow in their love and knowledge of God, as well as helping families make Christ the cornerstone of their lives and homes.
Linda resides in Milan with her husband, Dean. They have two grown daughters, Saralyn and Kaylee. Among other things, one of Linda's great passions is travelling, which includes taking frequent adventures to Walt Disney World.
Kaylee John
Director of Children & Family Ministries
E-Mail:

No doubt, Kaylee has a life-long history with SFUMC; her family began attending the church about eighteen years ago when she was about four years old! Being nurtured by so many people within the church and serving alongside her staff member mom (Linda Klepaczyk) laid the foundation for her faith over the years. After graduating from Saline High School and heading to Eastern Michigan University, Kaylee felt the call into ministry in January 2018. This led her to pursue a degree in Family Life Education & Children's Ministry at Concordia University in Ann Arbor. It is during this time that she began serving as the Children's Worship Arts Coordinator at SFUMC and realized her passion for nurturing the lives and faiths of children. After two years of serving in that position (and given the unforeseen circumstances of 2020) she is so pleased to have the opportunity to continue to serve SFUMC's children & families as the Director of Children & Family Ministries at this time.
In the past couple years, Kaylee's growing trust in God has led to stepping out in faith in bigger and bigger ways! As if being called into ministry and transferring universities wasn't enough, in May of 2019, she met her now fiancé, Dhiraj John. Dhiraj is the Director and Head of Living Hope Children's Home/Anton Public School in Bangalore, India, an organization that educates, houses, and serves 150+ children. Dhiraj and Kaylee's love story is a wild and wonderful story in it of itself (and much too long for this bio), but once they re-sechedule their May 2020 wedding, Kaylee will likely be moving to India to serve alongside Dhiraj and care for the children in Living Hope Ministries. For now, they remain grateful and faithful in this time of waiting. After all… Kaylee's favorite Bible passage (and mantra in the past few years) is Proverbs 16:9: "We can make our plans, but the LORD determines our steps."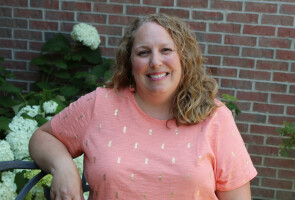 Trish Farrell
Director of Youth & Family Ministries
E-Mail:

We welcomed Trish to the SFUMC staff just prior to April 2020 amidst the COVID-19 pandemic. The timing for introductions to our active youth group - not to mention parents and the congregation - could not have been worse. Not to be deterred, though, Trish jumped right into the social media world with both feet! She quickly made virtual connections via The Underground facebook page and regular Sunday evening Zoom youth meetings. Her passion for building relationships was evident immediately.
Trish has been active in youth or camping ministry her whole career, most recently at the Judson Collins Center, a United Methodist camp in Onsted, Michigan. Trish felt God's call to ministry when she was only 16! She cherishes personal relationships, of course, but also loves mission projects and contemporary worship. Trish cautions, however, that "you do not want to hear her sing!".
Trish is married with three children of elementary and middle school ages – Ryan, Alanna and Leighann. Trish and Greg were married in 2003. Not surprisingly, Greg proposed to Trish in front of 500 teens at a conference! As a family, the Farrells like to travel, play sports, play board games and go boating. The whole family is excited to get involved at SFUMC.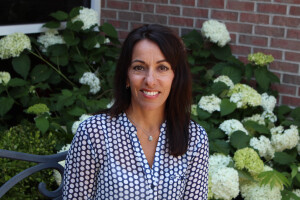 Pilar Graden
Administrative Secretary
E-Mail:

Pilar joined the staff at Saline FUMC in December of 2017. She is grateful for the opportunity to work and serve with such amazing people. She loves that she can worship and work at the church she's belonged to for over 20 years.
Pilar lives in the Saline area with her four children: Jay, Adrian, Samantha and Nick.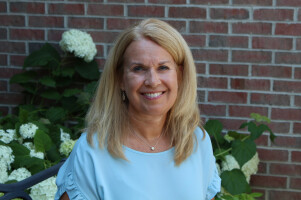 Michelle Grill
Financial Secretary
E-Mail:

Michelle has attended FUMC Saline since 1993. She has a business/accounting degree from Hope College and worked in commercial lending for 12 years before becoming a stay-at-home mom in 2004 after having twins. Michelle has been the part-time financial secretary since 2011. If you visit church during the week, she will be the first to greet you from her office. Michelle and her husband, Jeff have four children - Kyle, Ryan, Emma, and Evan. When they are not attending soccer games, basketball games, or gymnastics meets, they love to travel and spend summer weekends at their family cottage in the Irish Hills.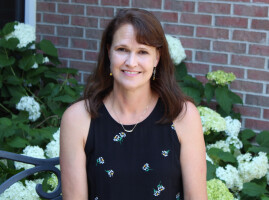 Jill Trokey
Office Assistant
E-Mail:

Jill serves as part-time Office Assistant and has been a member of FUMC Saline since 2011. Jill has volunteered in several capacities including Lay Leadership Committee and Communion Steward. Jill and her husband Tim have two adult children.